ID3TagEd is an application to allow the creation and/or editing of MP3 ID3 version 1 tags, and a range of frames of the ID3 version 2 tags. It will run on 26-bit and 32-bit machines, including the recent OMAP3 BeagleBoard. On 26-bit machines it requires a recent version of the SharedCLibrary (at least version 5.53) to be installed. ID3TagEd makes use of Toolbox modules for the wimp interface, and it is wise to ensure you also have the latest Toolbox modules installed on your machine.
A comprehensive user interface is provided to allow easy editing of version 1 and version 2 tags. The main window is shown below.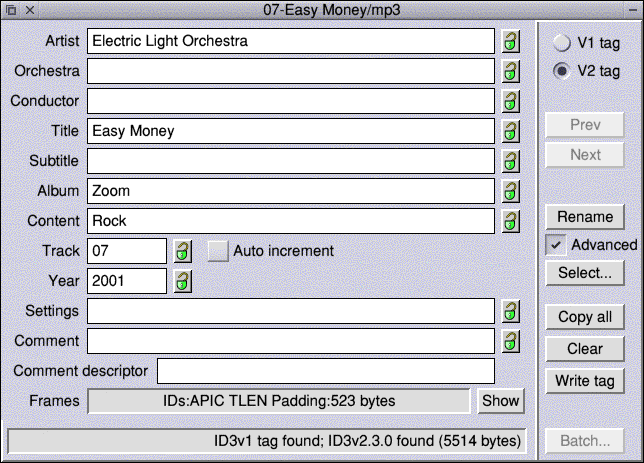 Not only can the tags of individual mp3 files be edited, but a selection of mp3 files can be edited as a batch process.
Downloads
Latest Version

ID3TagEd is under continuous development, so the latest test version which is available to try is regularly updated. A comprehensive rewrite has been undertaken, and the current test version is fully compatible with the BeagleBoard.
ID3TagEd test r127 (13 Jun 2013) - Complete version. File size 769 KB. Note the help files have not yet caught up with all the changes.
Main changes in r127
Added facility to add a wide range of text and link frames
Improved display of less common text frames
Improved checking when adding frames
Many internal changes
Changed in r108
More internal changes
In batch-strip chars, number of chars is now remembered when reopening the dialogue
Now set title of embedded image window to image type
Fixed bug in handling of clicks on main window - thought it always showed v2 pane
Changed in r104
Added option 'Trim padding' to batch processing
Changed since v. 0.25
Here is a very much abreviated listing of the major changes since version 0.25.
Handling of tags with text frames in unicode format greatly improved - ID3TagEd now uses the iconv module for all unicode decoding. If you are using NetSurf, then you will have the iconv module installed. If not, the latest version (as of 8th February 2012) can be downloaded from http://www.netsurf-browser.org/projects/iconv/
Improved handling of patterns for renaming, filling tags from full filename, etc.
Now deals correctly with multiple images in the v2 tag
Images can be added to a tag
Dealing with multiple COMM frames improved
New editing options - strip n chars from start/end of text frame
Some v.2 frames not conformint to the ID3 standard now recognised
Multiple COMM frames can be added
Add an image during batch processing
Delete all images during batch processing
Now using the 148 v1 tag genres as listed in LAME 3.98.4
Various bug and feature fixes
Previous full release
ID3TagEd version 0.25 (21st Feb 2008) - Complete version, file size 378 KB. Note that this version may not be BeagleBoard compatible.
A full listing of the changes in versions up to version 0.25 can be found here.